IA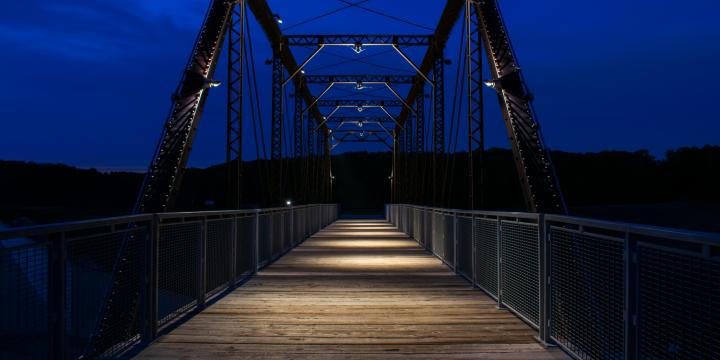 The Jurgensen Bridge is a historic pinned seven-panel Pratt through truss design steel bridge built in 1911, spanning the Middle River in Madison County, Iowa. The approaches and abutments were severely damaged on the 13' x 170' bridge during a 2010 flood. FEMA required a full replacement. The community chose to save the historic bridge by relocating and using a pedestrian bridge spanning the Cedar Lake spillway.
---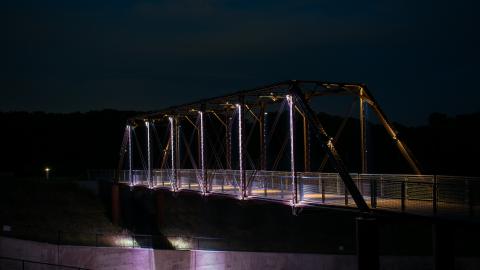 Shive-Hattery, Inc. developed concepts for conversion to a pedestrian bridge boasting guardrails, innovative lighting and interpretive signage. With assistance from an Iowa DOT State Recreational Trail grant and local matching funding fund, the project was completed in 2019.  As master planning and development around Cedar Lake in the future, the Jurgensen Bridge will become a regional destination.  The lighting fixtures and controls were chosen to highlight the historic and unique structural design of the bridge and to also become a destination for various local events.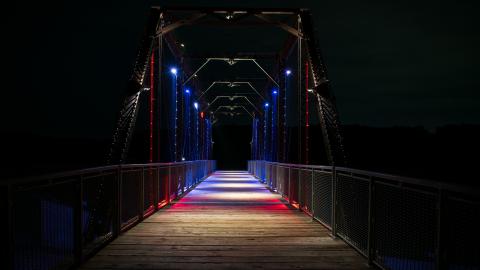 The bridge walkway is illuminated by small flood lights (B-K Lighting Arti Star) mounted on the beam directly above the railing.  These flood lights create alternating pools of light and dark.  The darker areas are illuminated by a small fixture (iGuzzini Trick) mounted on a beam directly above the walkway.  These fixtures create a 360° blade lighting effect starting at the fixture, across the beam, down the columns and across the walkway in between the pools of light.  The outside face of the steel columns is illuminated by color changing narrow-beam flood lights (Lumenpulse LBM).  These fixtures graze the outside face of the columns in various colors and show all the structural details of the steel bridge. 
The RGB fixtures are controlled by a local DMX controller (Lumentouch 2.0) that runs various colors and shows based on day of the year.  All of the fixtures are also controlled by a Crestron relay panel to run the fixtures from dusk to midnight every day. 
---
Owner:  City of Winterset, IA
Lighting Design:  Shive Hattery Architecture + Engineering - West Des Moines, IA
Photography:  Edin Smailovic, P.E., LC, CLCP