IA
A coffee shop tenant vacated their space in the historic Temple for Performing Arts, citing lack of space as the primary reason to relocate.  St. Kilda owners were eager to expand their brand to this part of downtown, but required over 40 seats to make the venue financially viable.
---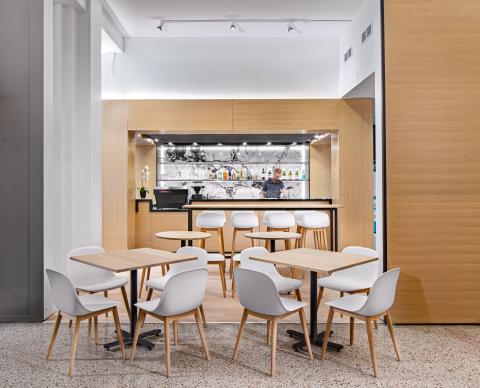 The previous coffee shop had 12 seats, so the challenge was to find a creative method to redesign the space to enlarge seating capacity, while adding a kitchen and central bar.  A 12-foot sliding wall panel was added to connect the dining room to the building lobby, thus adding 4 additional tables.  The internal circulation pattern was revised by closing off one door and adding one side door to create a front room.  The resulting restaurant features seating for 48 patrons indoors and 20 patrons outdoors.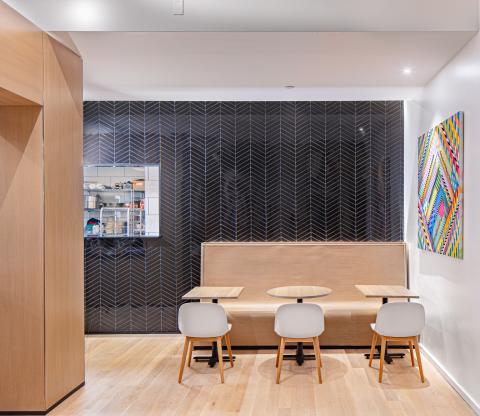 Quality of Light became a guiding principle of the design.  The restaurant brand focuses on salads and entrees with color rendition being essential to the menu and naturally to the ambiance of the interior space.  Lighting was chosen to maximize color rendition while minimizing fixture appearance inside the space.   Simple track lighting with exposed LED parabolic lamps providing the highest possible color rendition index illuminate the table tops and wash the walls throughout the cozy space.  The final design creates both vivid accurate colors and a sparkle to the food and surrounding interior space.
---
Designer: Hartman Trapp Architecture
Photography: Ben Easter Photography