NE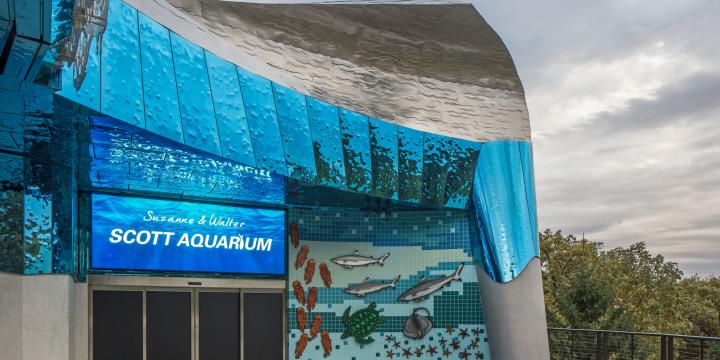 The new entry canopy for the Suzanne and Walter Scott Aquarium reaffirms the aquarium as a focal point for the zoo.  Clad with stainless steel panels, the canopy was conceptualized as a sculptural extension of the building.  Polished blue stainless-steel panels with an applied ripple texture form the ceiling and mimic the effect of being underwater.  The front of the canopy contains multiple layers of perforated metal panels simulating a coral reef.  On the roof of the structure there are eight large stainless steel wave sculptures.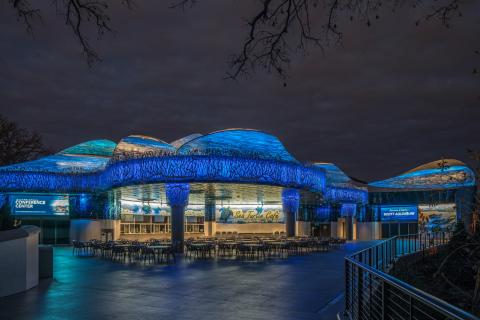 Morrissey Engineering conducted full scale mock-ups for the project to determine the optimal lighting approach with assistance from Central Sales Lighting Alliance.  Color changing luminaires with quad-chip LEDs were utilized to illuminate the specular stainless-steel waves (Traxon Liner Quattro AC XB RGBW).  An addressable node-based lighting system was designed utilizing RGBW technology to backlight the coral reef panels (Traxon Allegro Dot).  A DMX control system is utilized to generate video content that plays across all color changing luminaires.  Finally, low glare recessed downlights with a custom finish were selected to seamless integrate into the ceiling plane (iGuzzini Laser Blade InOut).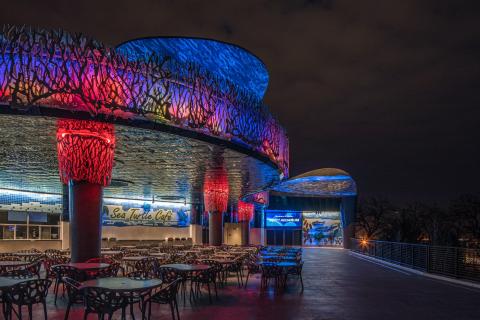 The result generates a duality that transformers the visitor experience from day to night, enhancing the special events that take place in the facility after hours.  All light shows are carefully designed and based on ocean-inspired effects and colors that extend the aquarium's mission to the exterior of the building. 
Owner:  Omaha's Henry Doorly Zoo and Aquarium 
Lighting Design:  Morrissey Engineering – Omaha, NE 
Photography:  Tom Kessler