IA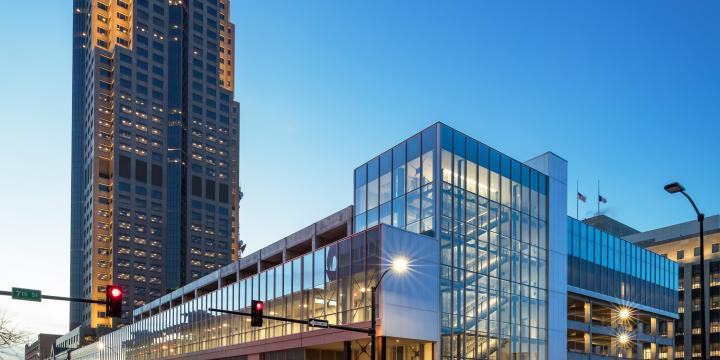 This new parking ramp is a six-level post-tension concrete structure intended to replace the former six-level precast concrete 7th and Grand parking garage.  Stair towers located at opposite corners of the site and immediately adjacent to retail enhance the connection of the street to the skywalk system.  The building is based on a program that combines the functions of the existing parking garage and retail in a more efficient manner.
Substance Architecture met with representatives from the City of Des Moines Engineering Department; Traffic and Transportation Department; and Economic Development to ensure that the parking ramp and retail space positively contributes to downtown walkability and development initiatives.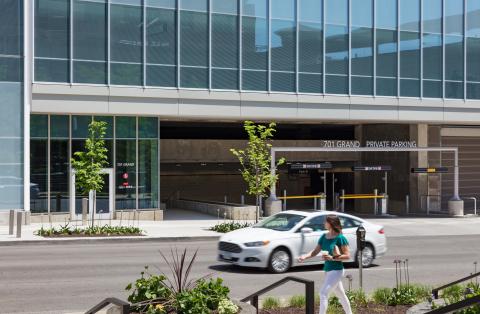 The primary programmatic elements comprise: the parking facility; commercial retail/office space on-grade; clear and visible vertical access points; and connections to the existing skywalk bridges at levels 3 and 5.
Substance saw the project through construction on behalf of a private development group.  Throughout the design and construction process, Substance performed Life Cycle Cost Analysis to help in the evaluation of design and system/assembly alternatives with different levels of efficiency.  This continual process of analysis and selection allowed Substance to deliver a highly cost-effective, efficient parking structure.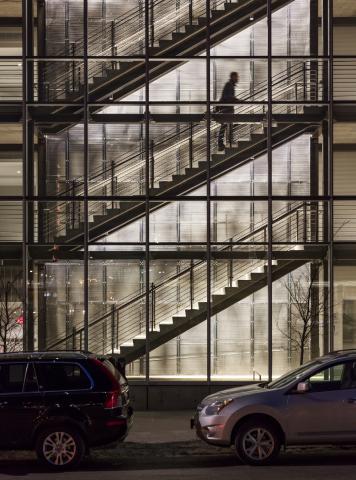 As part of this process, the design team utilized the mock up capabilities of Studio Context by CSLA to study several different methods of illuminating the perforated stainless steel cladding utilized on the ground level exterior and stair tower.  Lumenfacade floodlights from Lumenpulse Lighting were chosen to graze the panels providing an important architectural element.  As part of this study, the team was also able to confirm supplementary lighting would be required to meet code in the stairwells.  USAI surface mount cylinders were selected for this task based upon their powerful output in a diminutive scale.  In addition to a highly tailored cost-efficient architectural lighting scheme, Substance sought a unique entry portal which would allow integration of signage.  They found the perfect solution from Technilum Urban Furniture using a modified Octave series extrusion to create a minimalist entry structure which was able to cleanly accommodate the desired signage. 
Desiger: Substance Architecture
Photographer: Paul Crosby
---
Studio Context is a mock up studio offered free of charge to the Central Iowa design community.  Whether you're looking for a space to put together scaled architectural models as a proof of concept to a client or need to explore the influence of artificial light on your architecture, we invite you to schedule a session for your next project.