IA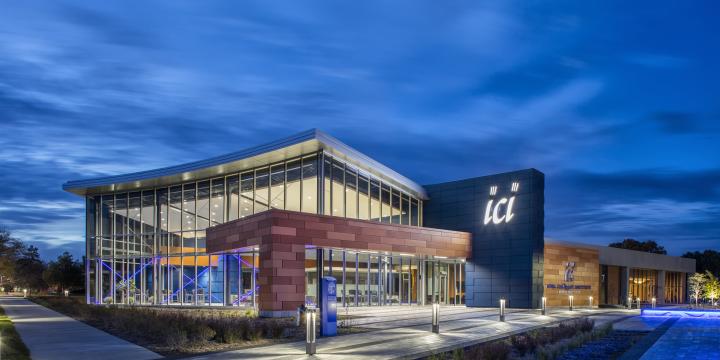 The Iowa Culinary Institute (ICI) at Des Moines Area Community College serves gourmet lunches to up to 100 people throughout most of the year.  It also frequently hosts international guest and donor gatherings, gourmet dinners, wine tastings and celebrations.  The ICI was looking for an impressive, open space where people could mingle and enjoy cocktails while learning more about the program.  Originally designed as a classroom-only building, the space needed to better reflect the world-class dining experiences offered to guests.  As many of the events begin later in the day and end in the evening, a more impactful lighting scheme was desired to highlight the approach to the building from the parking lots.
Feature lighting was placed to accentuate the "floating" wood wall and ceiling element that creates a visual threshold into the dining area.  At the floor, color changing light was utilized to wash the floor with seasonal light and their school colors.  At the head, an edge of white light was utilized to create visual movement towards the entrance of the dining area from the main reception area.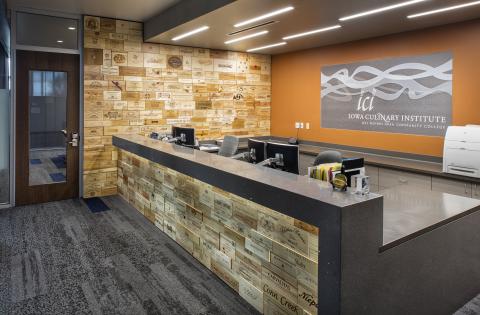 Lighting in the reception area was used to highlight architectural features and signage.  Light is used to accentuate the angles and design of the reception desk, as well as wash the front of the desk that is made of wood harvested from wine crates.  For the ceiling element, random linear arrays were used to continue a bulkhead between the boardroom and the reception entrance area and connect the spaces together visually.
CSLA was pleased to be able to consult with Shive Hattery as they developed the concepts for this project and began to seek fixtures that would meet their criteria.  The desire for a compact fixture with enough beam control and power to wash the decorative wine crates used as a facade under the front desk was met using the Moda Xtrusion series.  For the corridor that ushers the attendees from the central gathering space to the dining area, the design team sought to highlight the wood feature wall in a manner that was more subtle than the typical wash or glaze.  They chose to "float" the wall by adding color changing illumination along the base of the wall.  The Deltalight Rendez-Vous series was chosen due to its small profile and ability to interface with a variety of wall systems.  Finally, to create a dramatic pattern of light along the front walk, Bega 88 619 series bollards were selected.  They offered an appropriate subtle day presence while projecting dramatic patterns of light and shadow on the front walk during the evening.  Congratulations to Shive Hattery for creating a dramatic space that met the owners requirements on a modest budget!