IA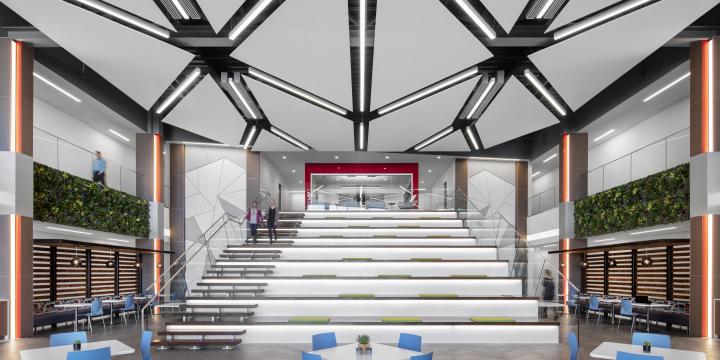 IMT Insurance, an employee-focused company that has been consistently recognized as one of Iowa's top workplaces, wanted a single-facility corporate headquarters that better reflected its vibrant culture and was designed for employee comfort, efficiency, and productivity. 
---
The new, three-story building is located on a high-profile West Des Moines street, offering approximately 85,000 square feet to house all current employees as well as provide space for future growth. An exterior façade composed of white precast, black granite, glass, and accents of red metal panel creates a design unique to IMT's brand and values, emphasizing it as a successful, yet humble company. The large spans of glass contrasts the stone and precast, and allow all employees access to natural daylight. A two-story atrium serves as the heart of the headquarters, providing a large area where all staff members can convene. The dynamic space features large windows, offering a connection to natural lighting and green space.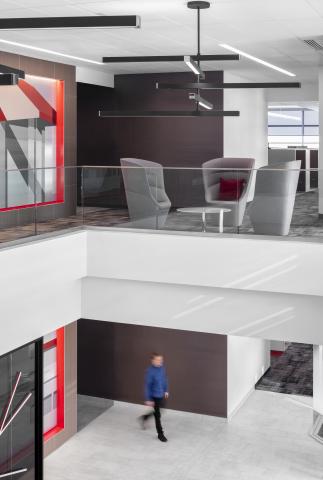 The design team chose the Eureka 5-arm switch fixture to provide direct and indirect lighting in the space as well as provide a visual interest and contrast in color within the large lobby space.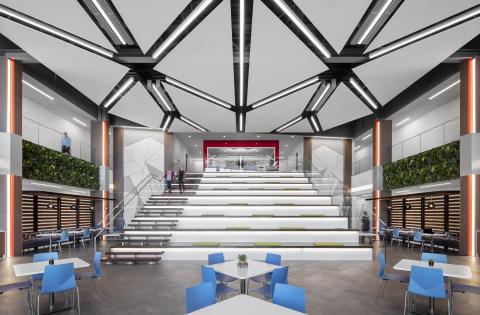 The Focalpoint Seem 4 pendant provides general illumination in the space and complements the ceiling elements.  The Seem 4 was chosen for its size and finish options to evenly fill in the gaps between the ceiling clouds.   For the seating area on each side of the collaboration stair, the design team went with the Tech Lighting Reece pendant with steel blue glass to offer a warmer more intimate light above the small break room tables.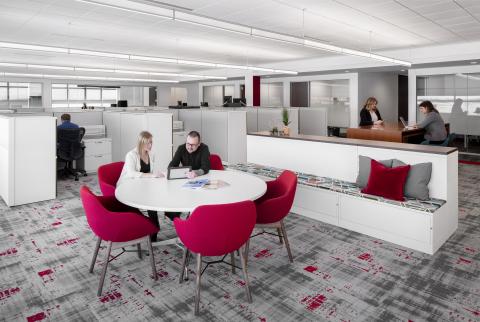 The open office lighting utilizes the Fluxwerx View to provide indirect/direct illumination for all personal and collaboration work areas.  The fixtures are part of the daylighting system that seamlessly dim to a lower output when adequate daylight is available in the open office.  This allows for energy savings while providing the employees great access to daylight.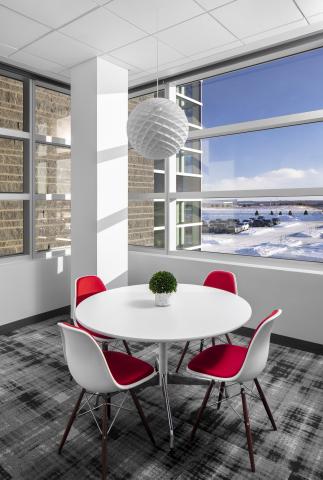 The Louis Poulsen Patera serves as both a general illumination fixture over the table as well as decorative fixture that is visible from the outside through the glass of the conference rooms.  
---
Architect: Shive-Hattery
Photography: AJ Brown Imaging