NE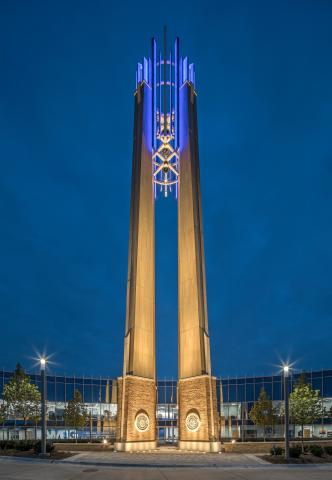 The 53,000 s.f. renovation and addition of the Lannon Learning Commons includes a 116' bell tower and plaza. The new space is a multi-use building catered to the well-being of the students and provides counseling services, collaborative spaces that encourage socialization, and a brotherhood culture. 
Plaza and roadway lighting is provided by minimalist light columns by Selux that integrate sound system, security cameras, and lighting.  The bell tower itself has three primary layers of light for the base, mid-section, and upper portion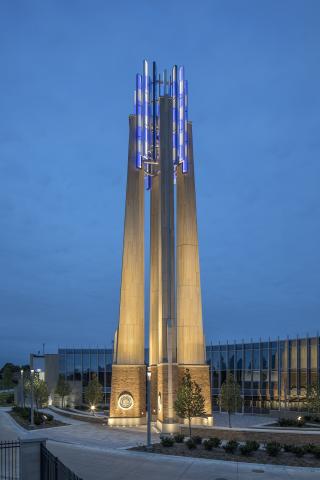 The base is grounded with ingrade luminaires by Lumenpulse that graze the textured brick and highlight applied emblems.  Internal tilt allowed for the luminaires to be adjusted and compensate for the sloped walking surface.  Floodlights with 4 independent adjustable heads are utilized to illuminate each pier from a single mounting location (Ecosense).  The top of the tower – nicknamed the 'Jewel' – consists of backlit perforated metal enclosures illuminated with quad-chip RGBW luminaries (Lumenpulse). Additional spotlights are mounted to the connecting rings to illuminate the bells suspended in the center of the tower.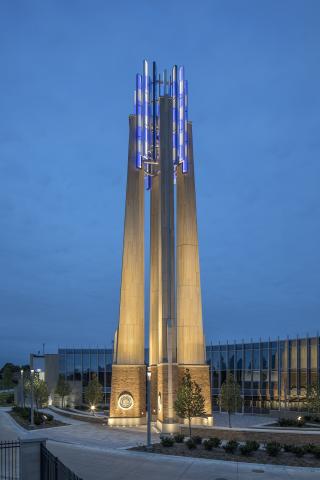 Color-changing luminaires are controllable in 1' increments, allowing for an unlimited number of colors and effects to be displayed.  Dynamic shows are available for holidays and sporting events.  The new tower has become a beacon for the school and surrounding community, celebrating the storied history of Creighton Prep. 
Owner:  Creighton Prep 
Lighting Design:  Morrissey Engineering – Omaha, NE 
Photography:  Tom Kessler