NE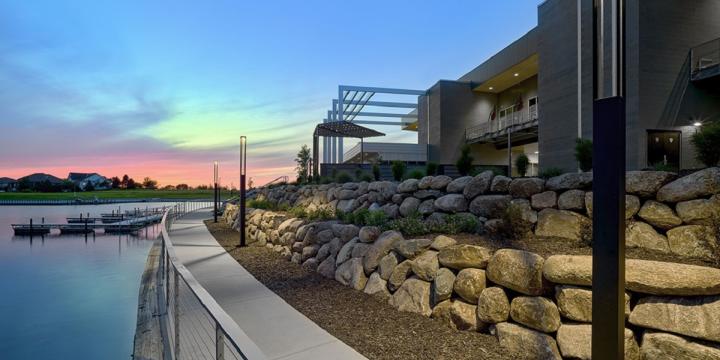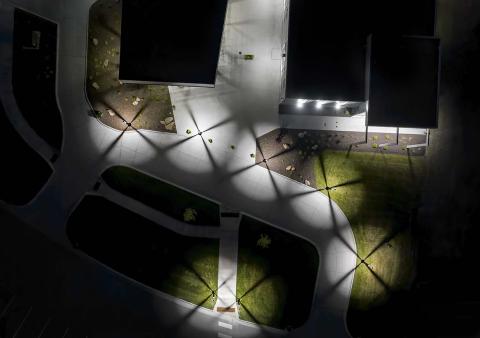 West Shores is a 640-acre residential lake community in Waterloo, Nebraska. Until recently, the primary amenities included a children's park, walking trail, and marina. Developers sought to introduce a mixed-use building on the lake's shores, consisting of a large event center and smaller retail tenants.
"Our number one goal was to be a good neighbor," said Steve Farrington, partner at Morrissey Engineering and electrical project manager for this initiative. "From an exterior lighting perspective, this meant introducing illumination that minimized impact on nearby residences and avoided light pollution."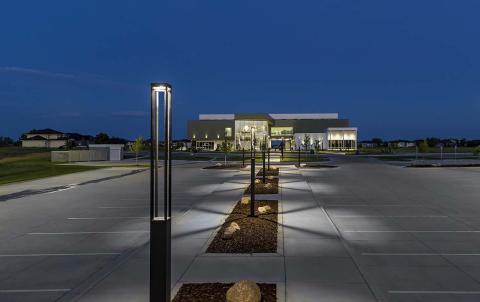 Luminis Lumiquad LQ641 columns were selected to illuminate the pathways around the building facade, adjacent driveways, and parking lots. A total of 22 columns, each with a 6" x 6" footprint, offer a safe and secure level of lighting as visitors navigate the facility at night.
Farrington selected an optional louver to ensure the light goes exactly where needed, minimizing light spillage to the lake and homes. And a cast aluminum top cover helps make the luminaire Dark Sky friendly.
"This was a great fixture for this project," said Farrington. "It produces a good quality of light and distribution, minimizes light spill to the neighbors, and the louvers provide excellent glare control. And the aesthetics are fantastic."
Lighting Design:  Morrissey Engineering- Omaha, NE
Photography:   Architectural Photography Inc.